Lands
Here the colours, flavours
and fragrances become wines.
Lands
We give
our all
to our land.
The land has to be loved, protected, and cared for. We are its guardians: we want to make it profitable, not exploit it. Because, in that way, its fruits thrive all the more, and the quality of the wines that we obtain from them also continues to grow. Our members are small-scale farmers: they are familiar with every inch of their vineyards, and they know just when and how to intervene in order to obtain the best from their grapes. And we, the cooperative, help them with agronomical and oenological support, investing in specialist personnel and in production technology.
Because we and they are all one.
Lands
With every sip, we take you on a trip to our beloved Romagna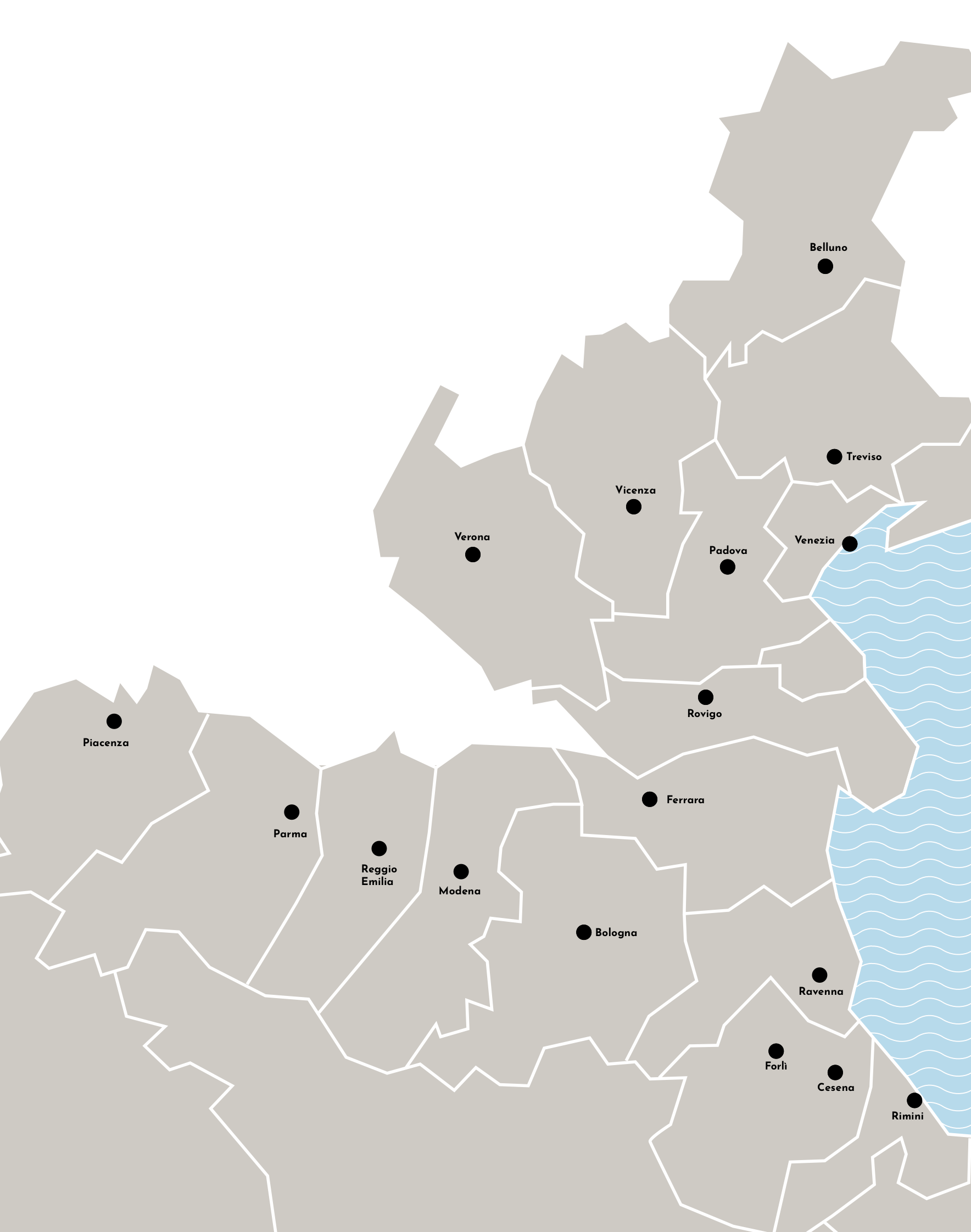 Group map
Bottling facilities
1. Lugo
2. Forlì
3. Reggio Emilia
Coop. Colli Romagnoli
4. Coriano di Rimini
5. Faenza
6. Rimini
Coop. Le Romagnole
7. Alfonsine
8. Bagnacavallo
9. Filetto
10. Fusignano
11. Massalombarda
12. Voltana
Grape collection facilities
13. Casola Valsenio
14. Savignano sul Rubicone
15. Mesola
16. Sant'Alberto
17. San Pietro in Campiano
18. Santerno
Tenuta Masselina
19. Castelbolognese
20. Imola
Maturation/wood ageing facilities
21. Santarcangelo di Romagna
22. San Patrignano, Coriano
23. Colli Romagnoli, Coriano
Terre Cevico and its members are to be found throughout Romagna, with its own wineries, grape delivery centres and bottling facilities, so as to be able to follow the progress of our wines, from the vine to the bottle. Our integrated traceability system involves our suppliers of grapes and other products in the winemaking process, so as to guarantee our clients the fullest possible information regarding the origin of the products we work with and use.
We believe in quality, and we seek to improve it by keeping our members involved in all our decisions.
Technology and care for the environment, as part of a complete production process.