People
Our feet are planted firmly in our future.
Our history is also our future. It derives from our fathers, from our grandfathers, from those who understood that we could only obtain positive results by acting in unison. Only the union of lots of people in a cooperative could create a new environment in which to live with dignity, working the land profitably even with small areas of vineyard. This is what we did when, in 1963, we founded our cooperative, in order to produce high-quality wines of which we are justly proud.
Find out more
Lands
We give our all to our land. The land has to be loved, protected, and cared for.
Find out more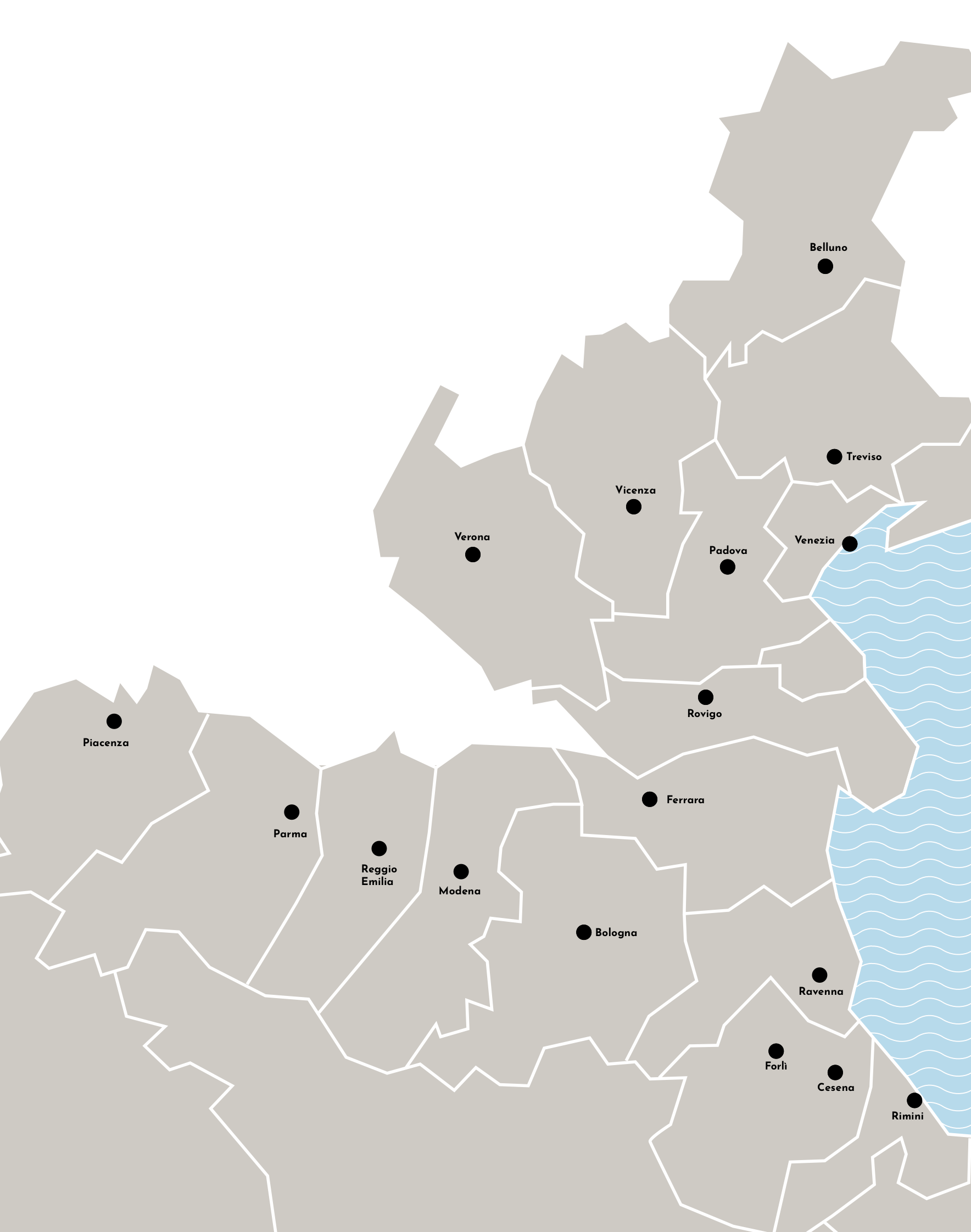 Group map
Bottling facilities
1. Lugo
2. Forlì
3. Reggio Emilia
4. Verona
Coop. Colli Romagnoli
5. Coriano di Rimini
6. Faenza
7. Imola
Coop. Le Romagnole
8. Alfonsine
9. Bagnacavallo
10. Filetto
11. Fusignano
12. Massalombarda
13. Voltana
14. Sant'Alberto
Tenuta Masselina
15. Castelbolognese
16. Imola
Grape collection facilities
17. Casola Valsenio
18. Filo di Argenta
Maturation/wood ageing facilities
19. Santarcangelo di Romagna
20. Castelbolognese
21. Colli Romagnoli, Coriano
We are 5000 families of vine-growers, we cultivate 7000 hectares of vineyards, and we have 20 wineries. And we share a common goal: to grow, together.
Our grape varieties are like us: born here, in Romagna.
We grow indigenous varieties, in an area where vines have made their home for over two thousand years: a wide basin, which stretches from Rimini to Casola Valsenio, passing through the territories of Cesena, Forlì and Faenza, as far as the sandy soils of the Park of the Po Delta in the north-east, and including the fertile Ravenna plain in the centre.
This area yields distinctive wines, which are an integral part of us and reflect our character. Wines that are our ambassadors all over the world.
Find out more
SHOW CAP - Innovative Communication for Young People

30.05.2018 - News

12 cortometraggi che attraverso la Sand Art, l'arte dell'animazione con la sabbia, raccontano in modo innovati...

Read article

Bollicine e territorio. Lunedì 26 febbraio. Tavola rotonda.

09.02.2018 - News

Questo il titolo dell'incontro alla Fiera di Faenza lunedì 26 febbraio alle 20,30. La serata chiama a racco...

Read article

Cevico partner ufficiale di FICO, la fabbrica italiana contadina

09.11.2017 - News

In primo piano la condivisione di filosofia e valori dell'agricoltura italiana. Il 'Fico Rosso' e il '...

Read article